SECOND CHANCE OFFER!! $24 for Robin Long's Client Welcome Guide Template for Maternity and Newborn Photographers {Save 73%}
| Value | Discount | Savings |
| --- | --- | --- |
| $89 | 73% | $65 |
763

bought
The deal is closed.
Tipped at 8:18:39 AM with 1 bought
---
The Fine Print
* Download instructions are available immediately after purchase in your "My Stuff" tab here on Photo Deal Cafe (click on the "Print" link to view).
* Product is a zipped file including .PSD files with jpg images for "at-a-glance" design, and mp4 video tutorial.
* Photoshop and PSE compatible (PSE users need to install action to "ungroup" layers)
* Digital Download. All sales are final. No refunds!
* Terms of Use are included in the files
* Voucher expires November 15, 2013
Highlights
Sleek, simple and beautifully displayed client welcome guide to send to your clients.
20 Fully customizable .psd files + bonus 4-page product/pricing guide + substitute pages, + a full video tutorial are included.
Specific to Maternity, newborns, babies & children, including "about the artist, what to expect, preparing for your session, the studio, products, pricing, and a complete nutrition guide for nursing mothers."
Loaded with photo layouts using simple clipping mask techniques to display
your beautiful work to your clients.
Verbiage & designs included.
Suggested labs for Printing 5.25 x 8.25 perfect bound Digest and 4-page printable pamphlet are included.
Digital versions can be created as a FLIPBOOK for online sharing with your clients.
---
Share: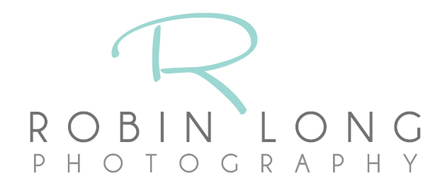 This is a MUST HAVE for all Newborn Photographers!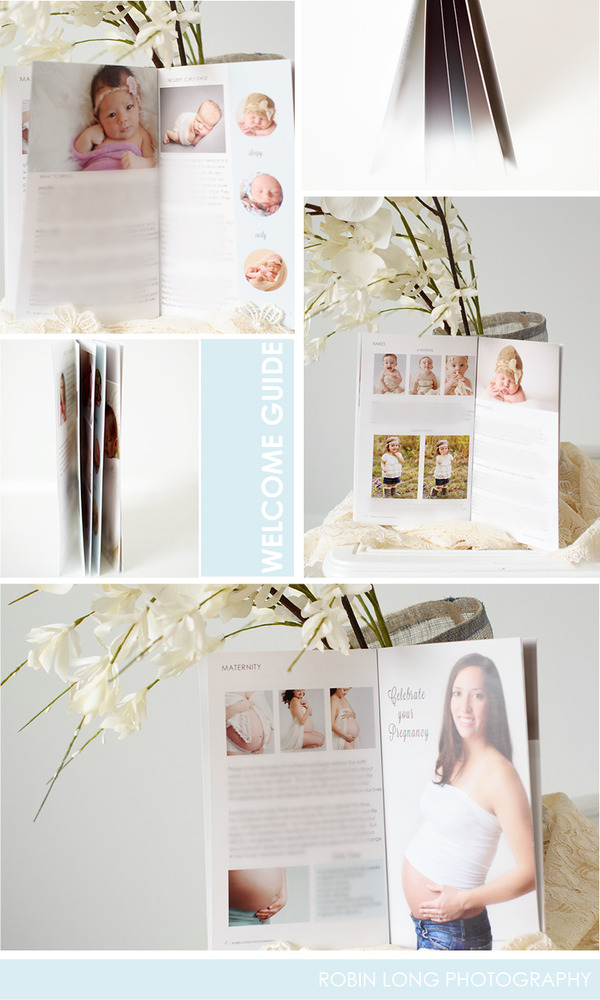 A custom boutique client welcome guide designed as a sleek, convenient, easy to hold and carry, 5.25 x 8.25 Digest. Specifically designed with boutique studios in mind! Give your clients a personal experience with a high quality studio guide to help them through all the essentials of their portrait session.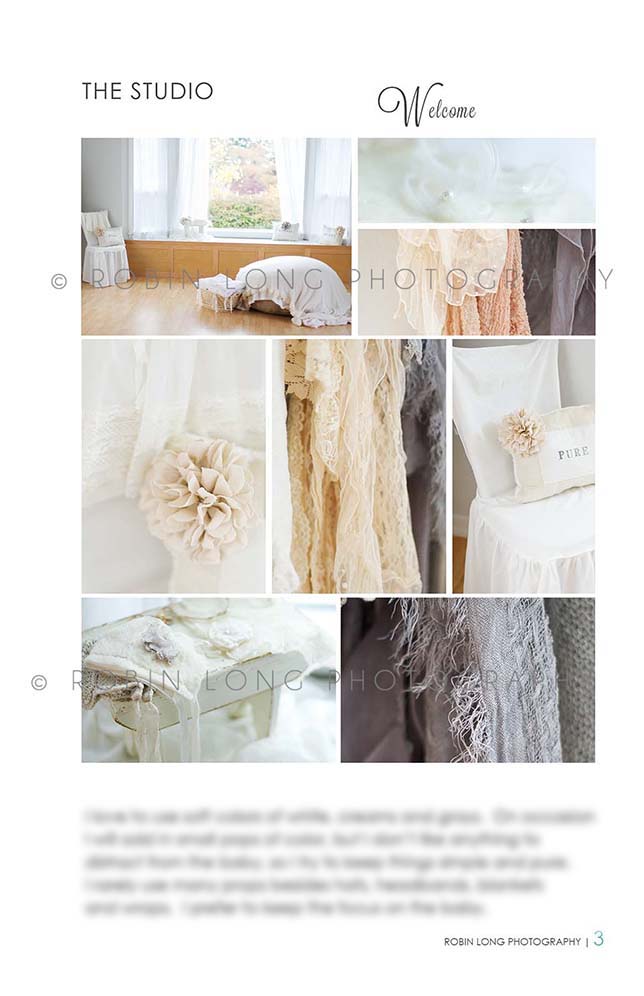 Maximize your time with a Complete Guide all ready for you! Simply add your photos, customize your text and upload to your lab or online digital software! It's that easy!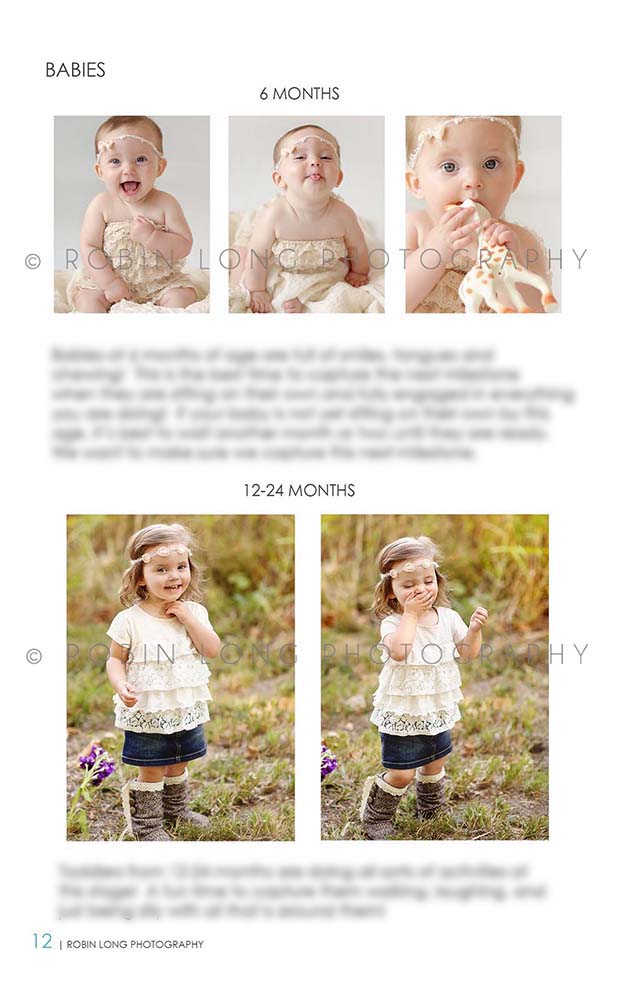 20 Beautiful photo/text layouts to showcase your best work to your clients! Suggested labs included where you can print your guides to mail to your clients and have on display in your studio. Your clients will love the Digital FLIPBOOK version they can easily view from their phone, iPad, or computer.
Give them all the details on:
How to prepare for their session

What to expect

Images of your studio and products you offer

AND a complete nursing guide
Suggested free online software for digital versions included!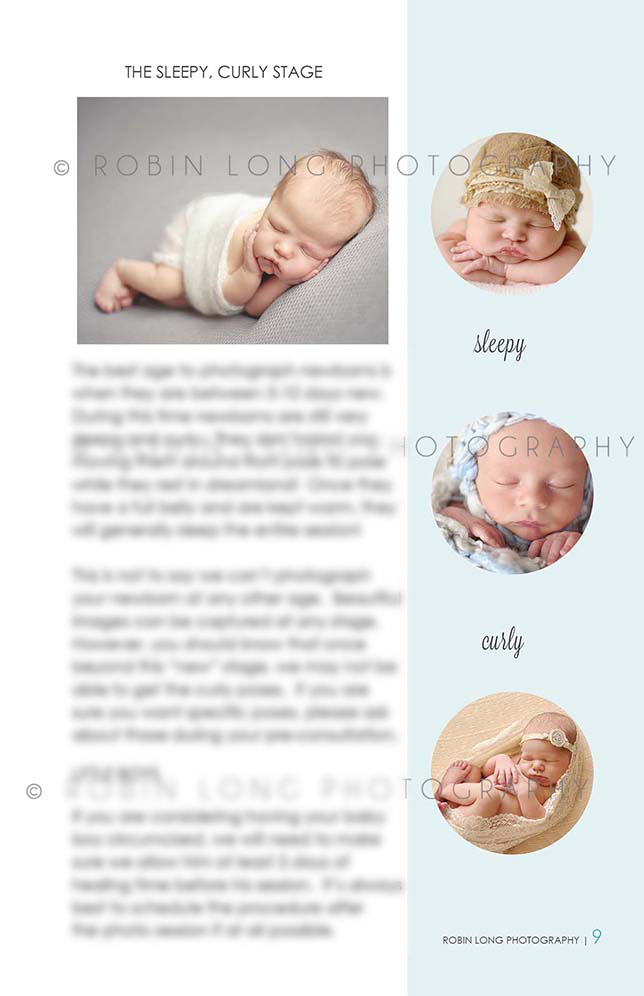 The Client Welcome Guide Includes:
Complete Instructions & video tutorial

on using clipping masks, changing colors, fonts used, substitute pages and using the bonus-product guide

"About the Artist" with a little introduction about who you are and your philosophy.

Welcoming your clients with a showcase of your studio

Maternity layout detailing the importance of the expecting moments

Detailed information on What to expect, how to prepare, & what to bring to their photo session

Why age matters for the sleepy, curly shots & about little boys

The natural imagery experience and your approach to photography

The 6 -24 month sessions

What to expect after the session

Detailed packages and product pricing section + bonus 4-page spread for printing your pricing separate as a pamphlet

Bonus photo layouts showcasing your best work

Copyright, Policies and complete Nursing Guide

Front & Back covers with full page images

Pages are fully customizable on separate layers
Formatted to print as a perfect bound 5.25 x 8.25 Digest, and a 4-page 5.25 x 8.25 pricing pamphlet if you prefer not to have your pricing included in the full book. You can also create an online FLIPBOOK to send to your clients!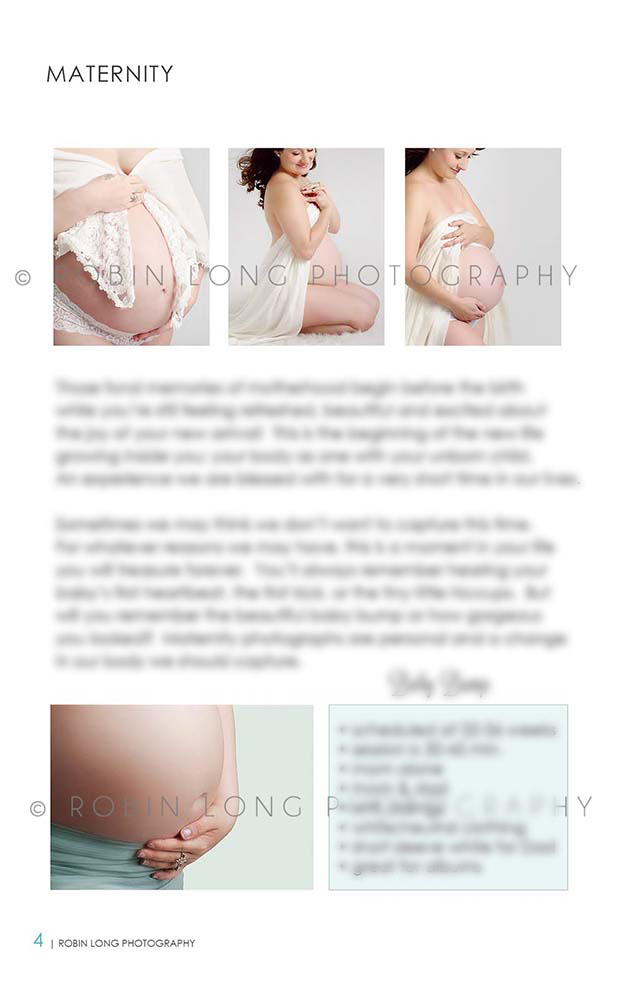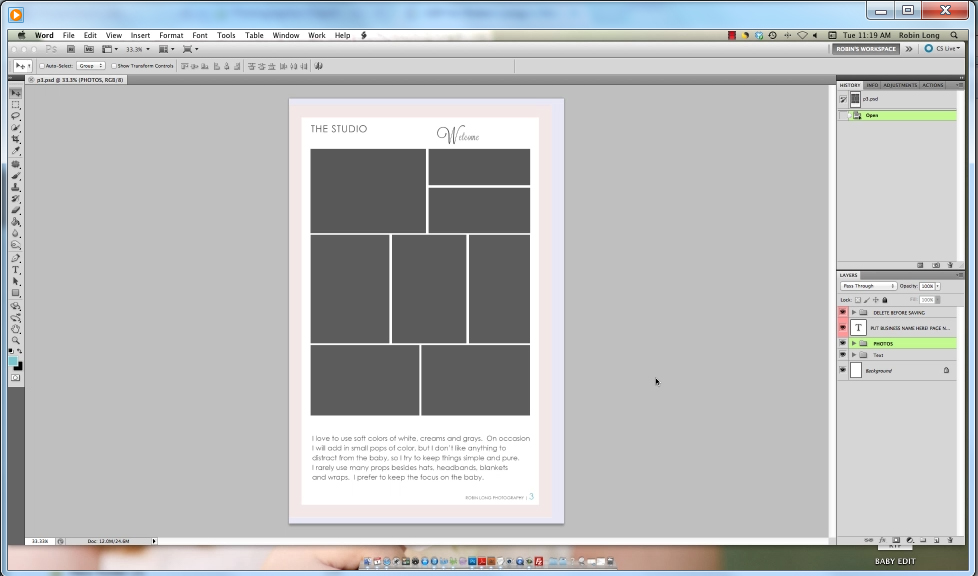 Printing Recommendations:
We recommend MagCloud for printing either individual or in bulk. For Digital Flipbooks, we recommend Flipsnack
PSE users can download a free action to ungroup layers HERE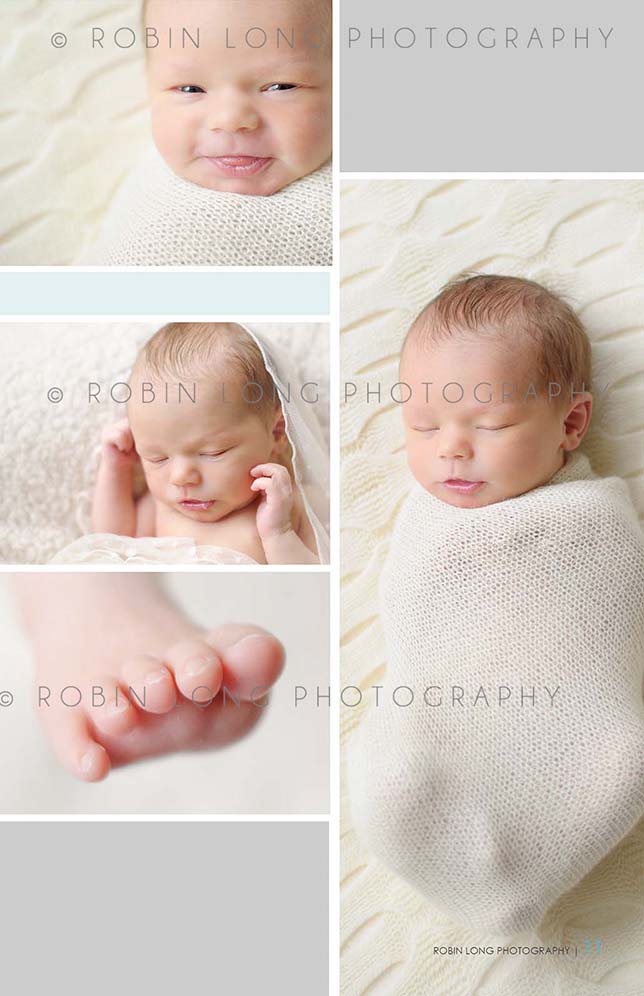 ---
About the Author: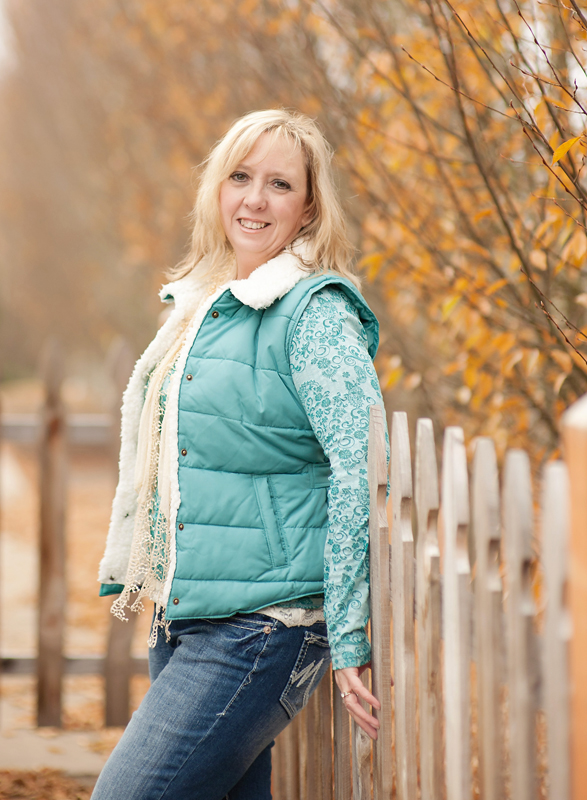 Photographer/Writer, Robin Long is a Multi award-winning photographer based in Salem, Oregon. Robin is a member of PPA and a Charter Member of NAPCP. Her work is recognized Internationally by the pure, natural, and organic style she portrays..
 
Fine Print:
Digital Download: All Sales are final. No refunds.

This is NOT a printed product.  

Product is a zipped file including .PSD files with jpg images for "at-a-glance" design, and mp4 video tutorial.

Sharing, altering, or copying is forbidden & against copyright laws.
---
REVIEWS: 
I've seen and used other client guides before and I just LOVE the way that this one is laid out. For me, it's a perfect blend of text and imagery. It also has room for sections that I haven't seen before that make it really unique, specifically the in-depth "About the Artist" section that includes the artist's vision. I also love that it encourages photographers to try and create a more complete experience for the client by including information on not just newborn sessions, but maternity and childhood sessions as well. 

I think having this client guide helps save time (and, ultimately, money) by not having to answer the same questions over and over. It causes the client to think about adding sessions with the inclusion of maternity session info. It's a great reference for your clients to use and sets you apart as a higher-end photographer that has an established business and reputation – Crisanta Mecate-Lopez | Infiniti Foto

Kudos to Robin for developing another wonderful product for newborn photographers to take advantage of! Her new Welcome Guide is simply beautiful! It includes topics like what to expect, how to prep baby, the ordering process, pricing and product layouts, and policies all in one convenient booklet! She easily let's us customize it to match our own wording and branding and has plenty of locations for us to showcase our work! And we also have the options to print them and/or transform them into a digital book! I'm sure you will love this product as much as I do!"" (PSE USER) – Tessa Boschert | Tessa Boschert Photography

We all know how difficult it can be to word client guides perfectly. It's something I know I've perfectly struggled with. Robin Long's Client Guide takes away the stress of having to figure out the perfect medley of words. It's completely customisable. And a stress free way of providing your clients with a simple, clean, professional guide that easily and simply explains everything they'll need to know. Its a must have for any photographer! – Ashlyn Dawson | Ashlyn Dawson

We have all loved Robin Long's photography - her pure & elegant style has captivated us! She has brought those same qualities to the editing table. Her new Welcome Guide is fully customizable & easy to use. I loved being able to include so many photos! I am positive this will be a wonderful asset for every studio & is certainly not limited to newborn photographers. – Carol Lea | Today Everlasting Photography

Robin's newest product "New client welcome guide" has helped ease the pain of remembering all the proper paperwork needed to provide clients upon booking a newborn/maternity session. It is a brilliant masterpiece created to give your clients all the information and details needed to secure their upcoming session for you. Beautifully laid out templates which allows you to customize with your own branding. This masterpiece has allowed me to bring my clients in and give them that one-on-one consultation time I have been waiting to do. It has allowed me to offer a more professional experience for my clients and sales have gone up! I highly recommend this product to be implemented into your business today! – Crystal Collura | Dolci Momenti Photography
---
Download instructions are available immediately after purchase in your "My Stuff" tab here on Photo Deal Cafe (click on the "Print" link to view).
The Company
Robin Long Photography
Salem, Oregon
United States
website